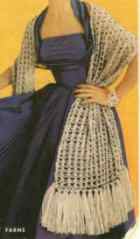 Measures 20 x 72 inches (excluding fringe).
Materials: CHADWICK'S RED HEART SOCK AND SWEATER YARN, 3 Ply, SHRINK-AND-STRETCH RESIST FINISH, Art. E.255: 8 skeins (1 oz. "Tangle-Proof" Pull-Out Skeins) of No. 491 Pearl Grey; and J. & P. COATS RAYON CROCHET, Art. A.73: 10 balls of No. 1 White, Clark's O.N.T. Plastic Crochet Hook No. 8.
GAUGE: 3 shells and 3 knots make 4 inches; 3 shell rows make 2 inches.
Starting at narrow end with one strand each of Sock and Sweater Yarn and Rayon Crochet, make a chain 30 inches long. lst row: 2 dc in the 4th ch from hook, * draw loop on hook out to measure 3/4 inch, thread over and draw loop through, insert hook between single and double strands and draw a loop through, thread over and draw through 2 loops on hook (knot st made), skip 4 ch, 3 dc in next ch (shell made). Repeat front * across, until row measures 22 inches, ending with 3 dc. Cut off remaining chain. Turn.
2nd row: Sl st to center dc of first shell, ch 3, 2 dc in same place, * make a knot st, shell in center dc of next shell. Repeat from * across.
Repeat 2nd row until piece measures 65 inches long, or length desired. Turn.
Next row: Sl st in center dc, * ch 5, sc in center dc of next shell. Repeat front * across. Break off.
FRINGE: Cut 25 strands of yarn and 25 strands of Rayon, each 18 inches long. Make a fringe in each loop across both short sides.
Crochet Resources...