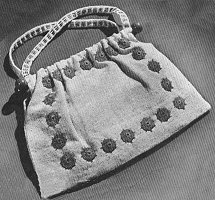 MATERIALS: CLARK'S O.N.T. or J. & P. COATS PEARL COTTON, size 5, 1 ball each of Red, Blue and Green. Milward's Steel Crochet Hook No. 7 or 8. ½ yd. hopsacking or monk's cloth (or any fabric desired). Lining material, 18 x 22 inches. 2 ball-end wooden rods. GAUGE: Circles measure 1-1/8 inches in diameter.
CIRCLES . . . For each side of bag, make 7 Red, 7 Blue and 6 Green circles (40 circles in all). Ch 5, join with sI st. Ch 4, 23 tr in ring. Join and fasten off.
Cut fabric 1 8 x 23 inches. Fold in half to measure 12½ x 18 inches. Leave 3 inches of fabric free at top edge and, with pins, arrange circles 3/4 inch apart in following color order: Red, Blue, Green and repeat around, having 5 circles in each vertical row and 7 in horizontal row. (See illustration. When arranging circles, it is best to start with center top circle and work outward.) With double strand of Pearl Cotton, sew down circles with 8 straight stitches, using Green for Blue circles, Red for Green, and Blue for Red.
Seam sides of bag to within center of 2nd circle from top, making seams large enough to prevent raveling. Cut 2 handles 2 x 20 inches. Embroider a row of running stitch in each color along center of handles, using double strand. Then whip long edges of handles together, turning in sufficient fabric to prevent raveling. Line bag, retaining side openings; then turn down hem at each top edge, large enough to insert wooden rods. Insert rods. Sew handles to inside top of bag (see illustration).
Crochet Resources...